Spires - The Whisperer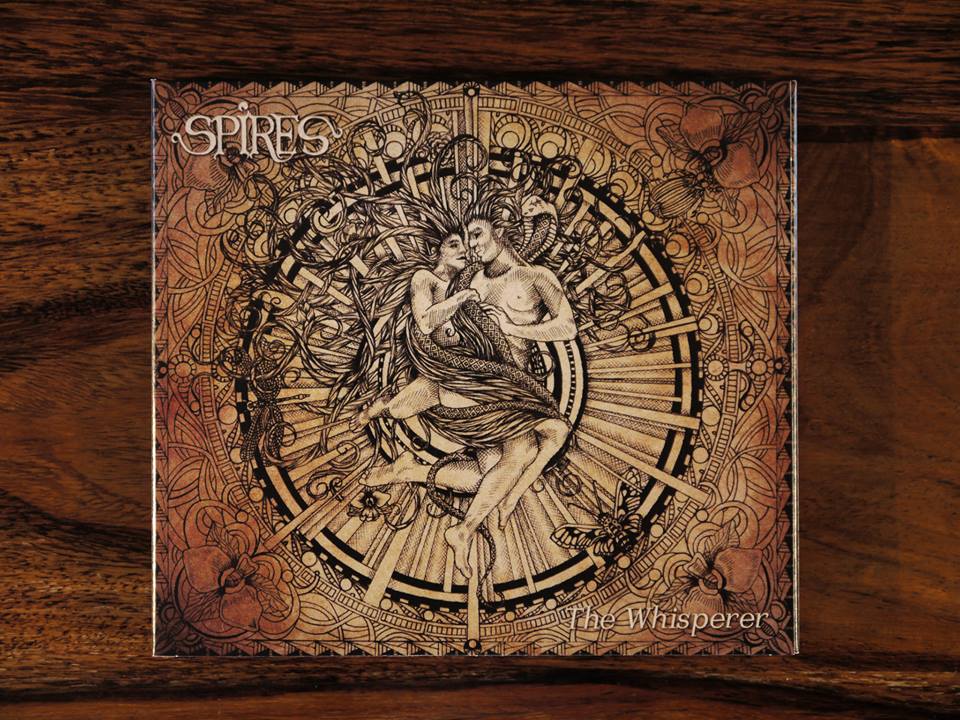 Manchester Rocks! You bet it does. No-one can deny the massively strong tradition of bands from our area. There may even be those old enough to track back to the days of Herman's Hermits and Freddie & The Dreamers and then you have legends such as The Smiths, Joy Division and the baggy trousered Madchester bands. Of course, there are also the big league local stars who have graduated to mass appeal and arena status like Elbow and Simply Red. Enough said, but more contemporary young locals such as The Courteeners, The Tapestry, Nine Black Alps and Amplifier seem destined to carry on a strong tradition of fine quality, locally sourced produce.
And then there's Spires. Their 2010 debut Spiral Of Ascension offered up enough promise and hope for a future which would be bright (if not orange) while 2012's Lucid Abstractions acoustic mini album showed that there was more to the quartet than technique and the ability to don the heavy and hard hat of prog metal.
"Spires have elevated themselves into feasting on the rarefied air breathed by only those at the very top of the tree of rock."
However, having had chance to indulge in a week or so's worth of listening of The Whisperer, let's just simply accept the fact that Spires have elevated themselves into feasting on the rarefied air breathed by only those at the very top of the tree of rock . We're not just talking a good prog metal record, but a true cornucopia of progressive death metal and beyond – from expansive prog metal epics to pseudo classical nylon guitar compositions and dare we say it, accessible hooks and links which will tempt those who enjoy their rock a little more melodic down a road which will allow them to get in touch with their dark side.
Sourced by crowd funding, Spires have genuinely pushed the boat out . A change in the line up has seen Richard Corrie joining the quartet and finds the production supplemented by additional strings and a female trio of backing vocalists – not the sort wailing away like you used to get on a Pink Floyd record, but used sparingly and subtly, almost to the point that you wouldn't notice them on the first listen. The opening track, all 14 minutes of Ethereal Organisms proves a real atmospheric opener - portents of doom and a cutting and piercing solo around the ten minute mark which is to die for. It takes your breath away and the immediate reaction is as if you'd just experienced a full album rather than just the first track, albeit a quarter of an hour epic.
Punctuated by the brave and welcome classical interludes of Surrogate and Elsewhere, plus the mix of brutality and calm which is Primal Revelation, the album builds slowly up to the marathon title track which dominates the record both in its length and stature. An ambitious twenty minute journey whose opening twin guitar lines and growls are followed by a wander through the genre with a guitar solo supplied by Tymon Kruidenier (of Exivious) plus with inclusion of BVs and strings - the only thing missing is the clatter of a kitchen sink. Genuinely progressive in its structure, the machine gun thunder of drums, guitars and an ear drum bursting growl arrives a third of the way in before going all pastoral again and fading out on a climactic wing and a prayer.
Bound for a late run up the rails as one of the top rock releases of 2014, The Whisperer delivers over an hour of thought provoking and at times, challenging musical ideas, all combined to form an impressive package and statement of intent. Again, another album which has so much to take in and repeated listens offer up all sorts of subtleties as the music permeates the brain. With the Manchester based likes of Spires and Collibus leading the way as young guns of the prog metal movement. Not allowing the likes of the big boys Dream Theater and Opeth to rest on their highly polished laurels and keeping them on their toes.
Words: Mike Ainscoe