Ten Foot Wizard - Sleeping Volcanoes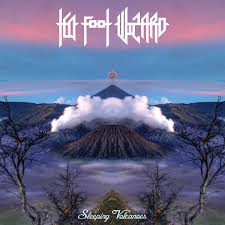 Ten Foot Wizard is back bitches! If you haven't heard them yet then I hope you have a speedy recovery from your coma and join me in worshipping the 2nd explosive album Sleeping Volcanoes.
Ten Foot Wizard has returned with a fresh playfulness of blues, atmospheric, stoner buzz that tickles your funny bones and sooths the soul. Each song is perfectly placed and the entire album is utterly captivating. Not only will it rock your odd socks off but will also alter reality and have you believing you're a forest mage with a hat made from liquorish, tripping off some funky looking mushrooms you found by next doors the vegetable patch.
Guitars riffs and drums are seamless and harmonious with a sprinkling of talismanic, groove juice. Gary's sound box is arousing and celestial, even therapeutic. You cannot help but join in with his delicate tones and his resonating growls in I Miss the Sex and agree that no one misses the drama.
I love the raw, blues sound of Walk the Plank, the jive enticing riffs of Through this World and menacing cow bells with the bodacious hook of Railway Shuffle… and of course the insatiable beats of I'm covered in Tits. However Ode to Death is my personal album winner leaving you serene and content in tranquil induced bliss.
The album artwork by Beard of Zeus conjures a necromantic view and is deftly done.
Therefore girls and boys, and all other groove loving mythical creatures I implore you to wrap your ear flaps around this albums and buy these guys a well-deserved drink if you see them about. I doff my hat to you Sir's.
Words: Natalie Hughes