Goatwhore Interview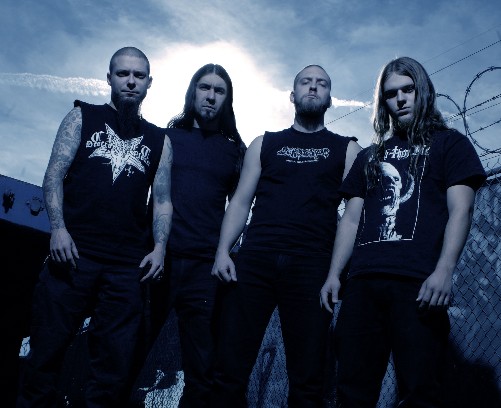 Back in April I was Sound Control bound, armed with a set of questions for Goatwhore guitarist Sammy Duet. This was all prior to a gig that turned out to be utterly mental and thoroughly enjoyable.
The interview didn't happen sadly. Due to airport delays the band were still unloading their gear into the venue when I arrived so there was no time for chat.
I briefly spoke to Sammy after their devastating set and he apologized for the circumstances that were beyond the band's control. Nice guy.
The band subsequently agreed to conduct an interview via email so here is drummer Zack Simmons answering my questions on their behalf.
Drugs and alcohol are, I believe, a huge part of the heavy music scene in New Orleans. In what way do you think those things contribute to the overall 'sound' coming out of that area?
I suppose it's a double edged sword when it comes to that but it's just a huge part of New Orleans culture overall because the bars never close and there is always something going and something to celebrate in the city. I think the lifestyle definitely has an influence on the music but it depends on which band and what kind of drugs you're talking about. MR: Goatwhore's music is very intense.
Where do you find inspiration for such intensity?
It just comes down to being pissed off I think. Not being pissed off at anything in particular really but just being addicted to the feeling of playing violent, crazy music. It's a very genuine feeling when we play and I think people can pick up on the fact that we're not faking what we're doing. We just really enjoy what we do.
Did it take time to be accepted into the NOLA?
When I joined the band and moved to New Orleans in 2004 it took a while to meet everyone and get used to things. Everyone sort of runs in the same circles. We play the same clubs, go to the same bars, know all the same people. It's a pretty tight knit scene down here and everybody was really cool and supportive from the get-go.
So what musical influences surrounded you as a kid growing up?
I have an uncle that was really important in getting me into rock and metal when I was really young. It started off with Metallica, Iron Maiden, Black Sabbath, etc. From there I just kept digging and searching for other things and that eventually led into picking up the drums and learning how to play.
Goatwhore's lyrics are generally quite Satanist. Was religion a big part in your growing up if at all?
Religion has never been a part of my life. My family was never religious and never pressured me into anything. They really encouraged me to think for myself and believe what I want to believe.
How far does your interest in the occult go? Is there more to it than just lyrical inspiration?
It's definitely a rich source for lyrical content but I do have a genuine interest in it. I do a lot of reading on various subjects and just try to continue learning. It seems the more you learn about it, the more conscious you are of the world around you. It brings a kind of awareness that I find really intriguing.
I've heard the scene in New Orleans is a friendly competition between bands to write the biggest riff. Who would you say has come closest to that goal?
That's a tough question because there are a lot of killer riffs coming out of this place. What's cool about this scene is that every band has ties and similarities to each other but are different and unique in their own way. Everybody's got their signature sound going on.
Words & Interview: Paul Cooke
[embed]https://www.youtube.com/watch?v=9FT5FowymII[/embed]