Tim Bowness - Stupid Things That Mean The World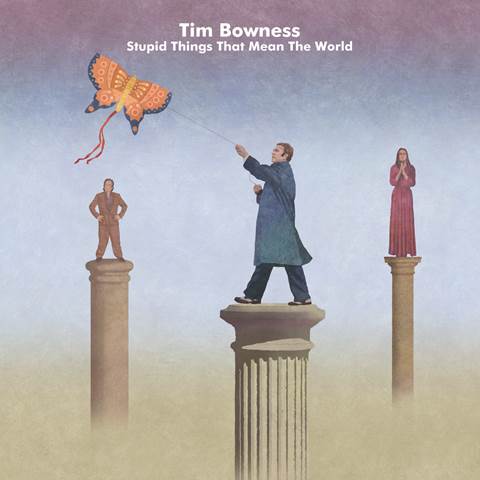 The Manchester Rocks view on the new solo album by Burning Shed manager Tim Bowness; serial collaborating pal of progressive rock's current pin up boy (if ever there were such a thing) Steven Wilson.
---
Whether he's collaborating with Richard Barbieri, Steven Wilson or Fairport Convention's Judy Dyble, Tim Bowness occasionally emerges via his solo work as a genuine player although one who is more than happy not to be in the spotlight. A bit of a sideman/bit player who eschews the limelight he may be, yet one who has enough of a reputation to pull in the likes of Gabriel guitarist David Rhodes, King Crimsoner Pat Mastelotto, Peter Hammill and Roxy's Phil Manzanera, who all add their own touches to the album. Add violin virtusoso Anna Phoebe who seems to be on call for all manner of prog projects and it's a bit of a stellar cast.
Stupid Things That Mean The World finds him in a solid vein of form, coming hot on the heels of 2014's 'Abandoned Dancehall Dreams' with the album ranging from the usual signature Tim Bowness sound, all pensive vocals and dreamy art rock soundscapes to things which basically rock. Album opener The Great Electric Teenage Dream builds from a pounding drum beat to a shredding climax and increasingly and insistently urgent vocal line. Similarly, Press Reset hits the halfway mark and erupts in a frenzy of drums and urgent strings in a pastiche of something New Order-ish, as well as revealing Tim Bowness' own new order.
Elsewhere, a couple of songs fall into the standout class. The gorgeously melancholic Know That You Were Loved contains guitar lines and lyrics which are both spacious, sensitive and heart wrenching as the song drifts off into a void like the fading life to which it attests. There's also Sing To Me which has thankfully emerged from an old No-Man session to be reimaged into a stunning album highlight with Bowness' vocals floating on top of swathes of strings, amid the flotsam of guitar and violin which bob in and out of the piece.
The subject matter of the album is encapsulated in the album title and the track of the same name. A track which at first glance appears pleasantly lightweight and friendly, it contains some marvellously irreverent lines - "you lost the plot before the plot was hatched, a makeweight friend, a lousy catch" is a cracker. Exploring the simple things and the trivial things which make up our lives and our obsessions and the small insignificant things which can mean so much, it's an album which relates to the common man. Heady yet simply effective themes.
Initially a little gem of a record but one which slowly gains stature and establishes a presence and one, if you've never heard of Tim Bowness, or maybe just had the odd whiff via his association with Mr W, then send the Burning Shed online store into overdrive by catching up on this and some of his impressive back catalogue.
Words: Mike Ainscoe
[embed]https://www.youtube.com/watch?v=UK2Ok3WEa54[/embed]