Download 2015: Saturday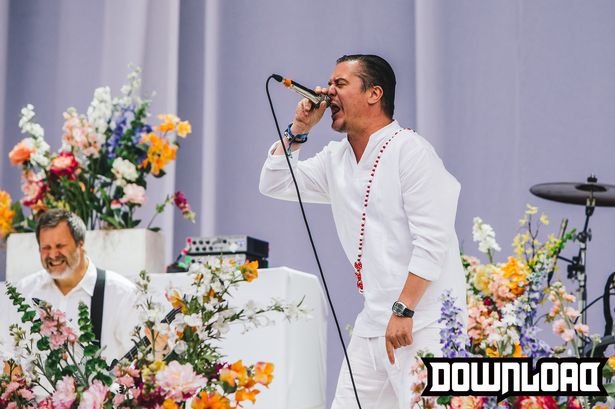 I wake up and the rain greets me, congregating inside the tent like an old friend doubling over in a pool of his own vomit. Putting my boots on at a festival (when it's muddy – which it always is) is probably the most mind-numbingly difficult thing I've ever done in my life. Knowing that you're about to re-drench your socks and jeans, all for a slow drawl to a portaloo queue which never seems to end is the worst. There's no toilet paper either, and mine took a beating on the previous day, leading me to ask a fellow camper if I can borrow a few sheets. If getting out of the tent in the first place is the most difficult thing, then surely this is the most demoralising. It creates an odd sense of hierarchy, those with the most loo roll at the top of the tree – bonus points if it isn't sandpaper esque stuff for a 4 pack which cost precisely 39p.
That said, it's fucking Download so after the semblance of a morning ritual (reduced to wet wipes round the key areas, a half-hearted brush of the teeth, and staring myself down in a puddle for any sign of weakness), Phil and I got on with it the only way we knew how – with ponchos and a few beers. The walk felt longer today, but the combination of beer and people clad in absolutely ridiculous costumes made it a light-hearted jaunt rather than the trench-walk which I had half expected.
First up was, well Hollywood Undead. I guess after the moment I realised 'Holy shit, here are a band with two drummers, four vocalists and one guitarist' and became passé to the sheer amount of plagiarism apparent in the synth work – despite the band having no visible keyboard player – this became quite an enjoyable thirty minutes or so. They're good entertainers, but the crowds of screaming fourteen year olds made it clear that this was not the place for me. Not one bit. I spent years hearing Crazy Train butchered by Zakk Wylde's irrational pinched harmonic fetish, but to hear it bastardised in this new, unrelenting way made me feel a little bit sick. Still, Hollywood Undead are popular for a reason, and my only hope is that that reason isn't because people are really, holistically into shit music. There are plenty enjoying their performance though, and you have to credit Download's sense of diversity and the range of styles it covers here.
Though my memory wanes, at this point I'm 99% positive that I ate either a burger or some roast potatoes covered in cheese and/or curry sauce to alleviate the guilt of having watching not just one song, but all of Hollywood Undead's set. Either way, it was a delicious meal and perfectly set me up for the mighty Testament on the Encore Stage. I've never seen Testament before, despite running the gamut of thrash bands over the years, and boy they didn't disappoint. Unfortunately they were burdened with some pretty severe panning issues which led to one guitar dropping almost entirely out of the mix, but thankfully Testament beef up their guitar tone to headcrushing levels – so it didn't matter too much in the end. The band played a few new cuts from Dark Roots of Earth but really started to kick a lot of ass when they ripped into old numbers like Into the Pit or their closer Do Not Resuscitate. Fucking excellent.
As far as I'm concerned, Testament's last two albums have been flawless and are, as far as old school and modern thrash bands go, one of the most in form bands around and their set here is testament to that…if you'll excuse the pun. Short but sharp and chock full of mighty riffs, searing lead work and Chuck Billy's booming holler you just can't fault this.
Luckily, I was resuscitated (at least metaphorically) just in time for a nice cup of tea and a sit down before all shit broke loose for those angry scousers Carcass. If you've ever seen Carcass, you pretty much know what to expect at this point – Jeff Walker being sarcastic in-between huge slabs of death metal/grind-come-classic rock – and they delivered once again at Donington. They opened with a track off the new record (the name of which eludes me) with a widdley guitar bit in the chorus which makes me weak at the knees. They played a fair amount of stuff off of classic album Heartwork which got the crowd moving and personal favourite Corporeal Jigsore Quandary which turned the crowd into a human washing machine/tumble-dryer hybrid. If nothing else, Carcass delivered hugely in the t-shirt department, parodying the Monsters of Rock festival of old and stylising their own name in Iron Maiden's distinctive font. This might not have been the first time you saw Carcass, but if it was, I can't imagine you not having fun. A band with as much character as they do heaviness and a lack of musical mercy, this is arguably one of the best sets of the day.
Out of the frying pan into the… land of fluffy marshmallows and palatable US High School sitcoms? A Day to Remember are here! Perhaps most surprisingly, it is actually a day to remember because they're damn good. I don't really understand this whole 'popcore' thing especially, but blending the happy-go-lucky Blink 182 sound with mindless breakdowns does actually work quite well for some reason; in the same way that putting sugar on bacon really shouldn't work, but oh my god it works. (Seriously, it works. Thank you America). [The fuck Ben? - Ed.]
But yes, A Day to Remember do have a place at Download and in the larger music scene. Regardless of whether you like the music – which I did, really, apart from a horrifying cover of Champagne Supernova (I was a little bit sick) – they're excellent showmen and have clearly invested a lot of money in making this a memorable show. There's t-shirt cannons, beachballs and a plethora of other rather fun things which complement the band's music perfectly and really showcase the power of giving a fuck about what you're doing. (KISS – I'm looking at you). Overall then, Saturday afternoon was a mixed bag of styles which mostly delivered, truly showcasing how brilliant a fucking mess rock and roll can be.
---
We're headed uphill, through mud and empty Tuborg cups as Champage Supernova's cringe worthy run through happens. Atop the hill, the fourth stage is pleasantly packed for Purson's wonderful, wistful 60s revivalism. They embody the hippie mentality and spiritualism, particularly channelled through their glorious frontwoman/guitarist Rosalie Cunningham who sways and grooves to the music in a way which just makes your jaw drop. They ooze that special something, progressive and doom rock leanings flavouring their sound, from the venomous Spiderwood Farm to the psychadelia smattered Tragic Catastrophe their music is authentic and a stark form of escapism. Cutting, beautiful, unforgettable.
Meanwhile, the main stage was itself getting some flower power treatment as Faith No More's stage set up, adorned with bouquets and Persil white sheets was set up. What follows is an absolute masterclass from a band like no other. Motherfucker is a superb opener, the band instantly dark and captivating despite the purity their stage set up and the temporarily prevailing sunshine above would lead you to believe. Be Aggressive burns with nastiness, the grooves of Epic sounding enormous and Midlife Crisis provides one of many huge sing alongs: They roll out a buffet supreme of brilliant songs played flawlessly. Easy gets an airing of course, with Mike Patton jumping into the photo pit to let a fan, being stretchered off to the medical tent with either a broken bone or dehydration sing a few lines. It gets the crowd smiling, a lovely touch. Ashes To Ashes, Superhero and last hurrah We Care A Lot are just so classy, so fun. The previous headliners may have dropped down the bill, but their excellence has never faltered.
I meanwhile, spent at least half of Faith No More's wonderful set sitting on my arse in the middle of the field, not really totally with it. I'm not sure what had happened to me but a combination of dehydration and watching Hollywood Undead must have really taken its toll at this point in proceedings. I might have been spiked. Either way, the mud was my pillow for several of the band's classics. Despite not really being able to move, or see, I had tremendous, mind-altering fun from my diminutive viewpoint. I was hallucinating Mike Patton as some sort of Virgil/Mephistopheles character, guiding me through some sort of tripped out, internal monologue that was my life. It was the closest thing I've experienced to taking mushrooms (apart from actually taking them, of course) and, all told, was a perfect state in which to watch such a mind-fuck of a group. Luckily I recovered just in time to battle my way through the crowds in order to get a good spot for today's main event.
Muse though. Fuck. When I was eight years old, I saw a man on the television playing something both catchy and insane, upside-fucking-down. At that instant I knew I wanted to do what he did: To play the guitar and make music. Some 14 years later, the band are gatekeepers of my musical heart, each member an extrovert and together they are simply deadly. Bringing out the big guns, the heavy, animalistic riffs, twinned with choruses born to headline festivals with, Muse tonight prove themselves, not only bonafide rock monsters, but one of the best out there. In terms of power, edginess, clarity and their depth of songs that everyone knows the words to, they're up there with the best of them. As far as live performances go, they stand toe-to-toe with Maiden and Metallica.
And I can't disagree. Muse are the best live band I've ever had the joy of watching, pushing Metallica off of the top spot, and this is coming from someone who pretty much wrote them off for the nine years between Black Holes and 'back to basics' new album Drones. I only bought one piece of merchandise all weekend, and my shiny Muse shirt is a symbol of just how fucking good they were.
Moments in Matt Bellamy falls flat on his arse, but he never misses a note and they only ascend from there on. Knowing their audience, they delve deep into their back catalogue, hand picking the heavier numbers and their set list on the whole is bang on the money. Citizen Erased gives off some downright gnarly 7 string Messugahisms, the haunting piano led middle section only one of two times Bellamy tickles the ivory. They keep the focus on guitars, on riffs delivered by a cut throat power trio. They even strip back the show, seeing no need to rely on gizmos and gadgets and letting the music do the talking. Alongside romps through AC/DC and Zeppelin riffs, Dead Star is a surprise addition - and the definitive shit-losing moment of my Download 2015 - a b-side that takes the blues scale and goes hell for leather with it while Time Is Running Out characteristically is massive.
Cuts from the new album including the scintillating Reapers and an emphatic live debut for The Handler show the band at their current guise, while Plug In Baby creates a shitstorm in the pit and Knights of Cydonia culminates with fireworks. As you watch them dart into the sky like a spider across your living room floor and explode, bursting into vibrant and beautiful colours, you know you've just witnessed something special.
Jaws are duly picked up off the floor and wiped clean of mud. Those who didn't think Muse could pull it off have been silenced.
Words: Ben Armstrong & Phil Weller