Year Zero: Ghost in Birmingham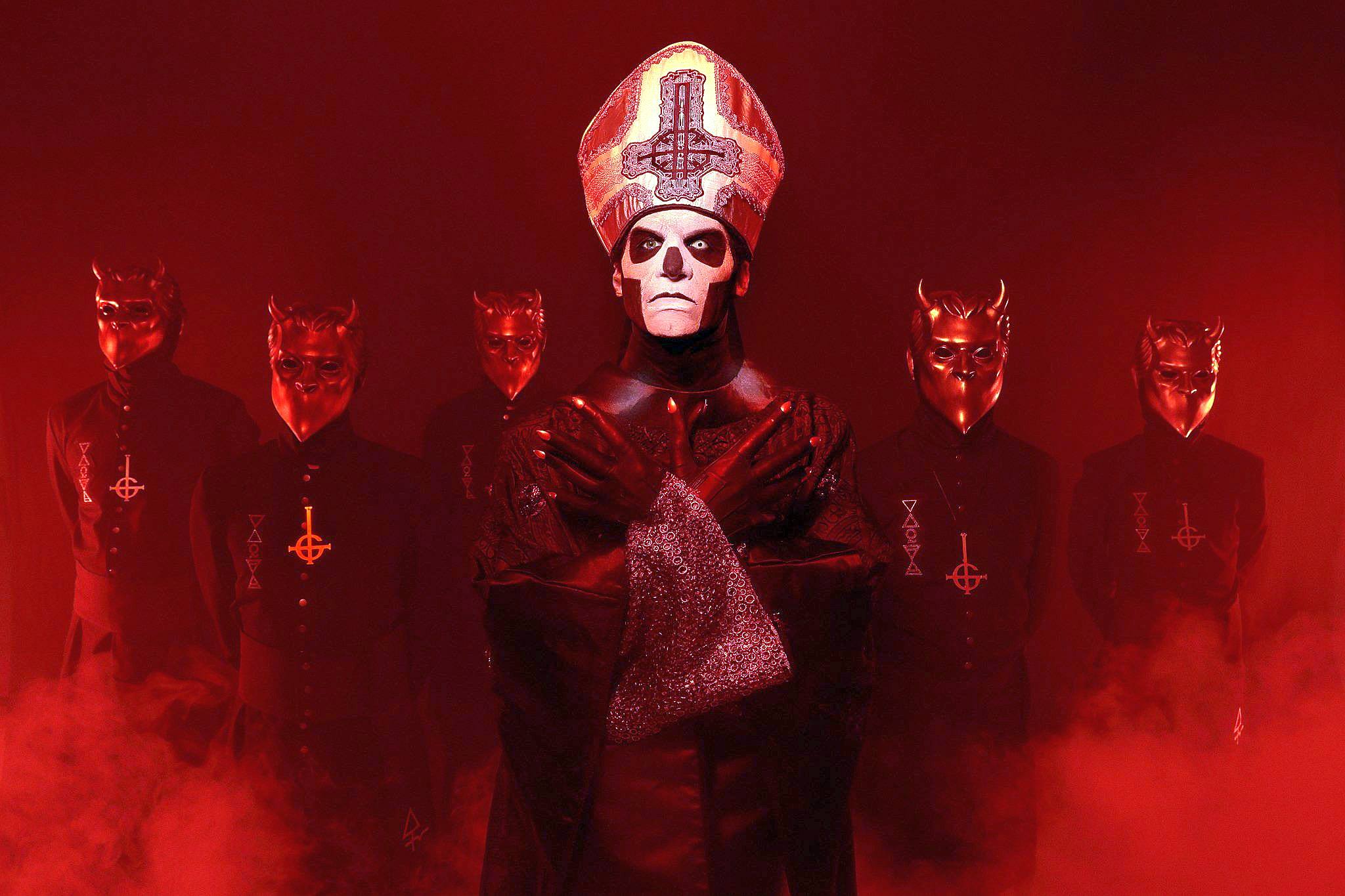 I remember seeing Alice Cooper at The Apollo just before my 18th birthday. I was already an immense fan, but what really opened my eyes was the depth of mesmerically massive songs he had in his arsenal. He played a set packed to rafters with hits – School's Out, Black Widow, Muscle of Love, Posion – and could easily have doubled the length of his set with the hits he missed. It was spectacular to witness, couple that with blood curdled theatrics and you have a transfixing, unforgettable 90 minutes.
Before magnificent stained glass windows in a fittingly archaic theatre in the heart of the Midlands, Ghost delivered a sermon of a similarly untouchable stature. Even with only three albums to their name – plus the brilliant covers EP If You Have Ghosts – the Swedish troupe were able to uncloak a set where every song was as anthemic and heart-warming, as show-stopping and entertaining as the last. By far their most accomplished performance of theirs I've seen to date, this tour, supporting one of the most staggeringly gorgeous albums [Meliora] of 2015, which straddles both ABBA inspired pop song writing and doom metal dirge worlds with a deft flick of the wrist, is a coming of age for them.
Before bedazzled eyes they have evolved from a band with an ear for a melody and an engaging macabre image into one on the cusp of becoming monumentally huge and vital in the maintaining of rock music's vitality. Our legends won't be around forever – we've just lost Lemmy and David Bowie, quite tragically, in quick succession – and here Ghost have shown the willingness, charisma, individuality and most importantly, the ability to step up to the plate, take the mantel and move it forward with a wry smile and an unapologetically fun Satanism.
New songs Spirit, with its airy keyboards and demon worshipping vocals and the divine catafalque pop rock of From The Pinnacle To The Pit open proceedings emphatically. They're welcomed onto the stage like champions, like local heroes but the best is yet to come.
They may be a band whose imperious rise has been bolstered and complimented by their image (and its resulting saleability) with Papa Emeritus' constant rebirths, flanked by his ominous Nameless Ghouls, but for all their smoke and mirrors, it is when their frontman takes off his Mitre and talks and sings to the crowd on a more personal, accessible level that the band seem both at their most comfortable and convincing.
Papa Emeritus III warms the room with laughter when dedicating Monstrous Clock to the wonders of the female orgasm and it is exactly that kind of tongue in cheek personality which made Alice Cooper such a definitive figure in the 70s. You feel the same, in their own fashion, is about to happen for Ghost.
And so the onslaught of mammoth songs that unite the room in voice and spirit contines: Ritual, Body and Blood, Cirice and Year Zero are all perfect – and that is not a lazy journalistic cop out on my part, it's the truth. There is something about their presence that resonates a classiness you just cannot fault. If they were to be given a headline slot at any of Europe's major summer festivals they would, without a doubt, be thrusted into the upper echelons of our rock world. The population of the high table of rock's biggest and greatest bands, the kinds capable of stunning muddy fields of 80,000+ people, is on the decline as time withers away. Ghost's arrival is then in perfect time.
The dark and dreamy piano tinkling of Ghuleh/Zombie Queen is flows reverently into their cover of Rory Erickson's If You Have Ghosts, but it's no mere pastiche. They've taken the bright eyed cover version and donned it in black face paint, dressed it in a crimson cloak and mounted it upon a pale horse. Like a child dressing for Halloween, they've completely transformed the song into one which is quintessentially them. And what they are is astounding. It rounds off a night, alongside the aforementioned and excellently delivered Monstrance Clock – with a helping of theatric creepiness, Papa Emeritus is more an actor than a singer here – that will be etched upon my memory for years to come.
They are Ghost, and they have everything.
Words: Phil Weller