Boss Keloid - Herb Your Enthusiasm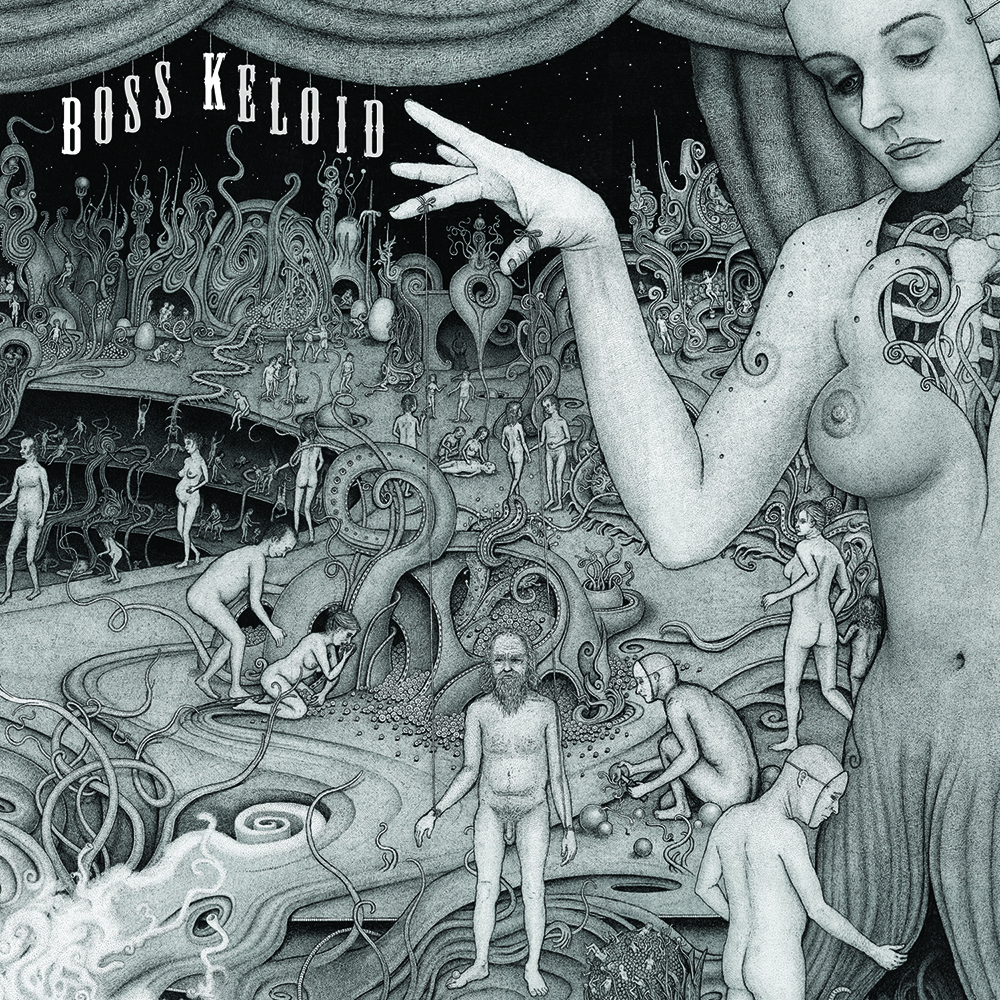 It's probably fair to say that anyone who's been following the trajectory of Wigan four-piece Boss Keloid over the past 12 months will probably be sharing a similar feeling that 2016 is going to be a biggie for them. The reason? Their sophomore release. Due for release on 8th April, it's entitled Herb Your Enthusiasm and it's absolutely incredible.
It's been nearly 12 months to the day that Boss Keloid played any of the songs from their dazzling début The Calming Influence of Teeth live, instead choosing to play exclusively new material in the lead up to entering Skyhammer Studios. Although at first this might have slightly annoyed fans of their earlier stuff (myself included) that wanted to see a bit of Skipper's Pipes, upon hearing Herb for the first time all is absolutely, 100 per cent forgiven.
Those months spent living with the new songs, honing them through their stage craft have paid of dividends, resulting in a jaw dropping piece of work that the lads should be extremely proud of. From its epic opener to its bone crushing finish the scope, the skill and sheer inventiveness on display is astounding.
And what an opener Lung Mountain is. A weird little riff begins rumbling to life before everything comes crashing in and the sheer weight of what these boys are now capable becomes apparent. From then on in you're taken on a near eight minute climb up the mountain, through troughs and valley's as the song shifts in tempo and dynamics.
It's clear from the very off that Boss Keloid have matured into a completely different animal than the one that produced the spazzy math-sludge of their début. There are still elements of Teeth-era-Keloid on songs like 'Haarlem Struggle', which has so many shifts in tempo it will make you feel violated (in a good way) but overall, they have focussed much more on colossal grooves rather than mind bending weirdness.
With a name like Herb Your Enthusiasm, it's no surprise that there is a blatant ode to the Devil's lettuce in the form of Cone, a brooding and intoxicating pipe-full of whitey inducing heaviness.
[embed]https://www.youtube.com/watch?v=iIBYdtYVbSA[/embed]
Many of riffs are informed by an octave pedal on Paul Swarbrick's guitar, which not only gives the tone an unearthly, pant-stain-inducing low end, but also gives it an eerie quality, extenuating the eastern scales he's using. These elements combined not only make the album crushingly heavy, but also strangely hypnotic.
It's also very catchy, but don't get me wrong; these aren't your average earworms. Pauls riffs and Alex's gigantic, bellowed vocal melodies don't just get stuck in your head. They burrow deep into the very core of your being until they become part of you.
It's this that sets them apart from many of the sludge, stoner and doom bands they've found themselves associated with. They don't just aim to pummel with heaviness – there's a level of class, taste and decency that's lacking in the music of many of their peers. That's not to say that they can't match the levels of brutish, heads down heaviness of the likes of Conan et al. Take Axis of Green for example, during which Boss Keloid lay down one of their simplest yet heaviest riffs to date. The results are flattening.
Speaking of Conan, not only was it recorded at their frontman Jon Davis' studio and released on his record label Black Bow, his distinctive battle-cry can be heard on Lung Mountain and Chabal. A nod must also go to their bass player Chris Fielding for the stellar job he's done of making this record
sound absolutely huge. Adam Swarbrick's bass tone is brown inducing, whilst Ste Arands' drums punch through the din like sledgehammers hitting concrete.
Ste has played a blinder on this album. While there's no doubt that Boss Keloid's overall sound is led by Paul (or Uncle Crow as he's affectionately known in their camp) and his genius approach to guitar playing, it's certainly pushed forward by Arands' drumming. Though he hits as hard as any metal drummer, he brings a jazz sensibility in the way he shifts tempo and provides weird little fills here and there, which add to the aforementioned classiness of this band.
Then of course, there is Alex Hurst, the voice of Keloid. His performance on Herb is incredible. Here's a man with true range, from low crooning, raspy growls to these long, drawn out bellows, accented by his trademark vibrato.
Everyone involved has upped their games to push the Boss Keloid sound forward leaps and bounds. Despite its slightly silly name, this is a piece of work that has shown their maturity and ability to evolve and in doing so they've produced a record that is surely going to be one of the albums of the year for any fan of the doom or sludge genres.
Words: Adam Robertshaw