Vesbim Pink Floyd @ Parr Hall, Warrington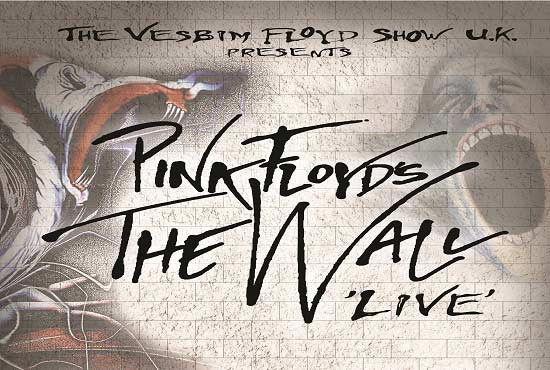 "So you like Pink Floyd? You should come and see us"
And that dear readers is how I ended up bimbling over to Warrington on a cold, dark Saturday evening to witness what can only be described as a fantastic show.
Vesbim Media specialise in writing, directing and producing theatre shows, film and music as well as hosting The Wirral International Film Festival, which they have done since 2008.
The Vesbim Floyd Band having been in rehearsals for over 12 months to be able to give Floyd fans an unmissable, show stopping and spectacular performance. Their three hour concert of live music included The Wall in its entirety as well as an extra 90 minutes of Floyd classics from the albums an array of classic albums using multimedia, projection and lasers to enhance viewing pleasure.
To start, The Wall; right from the off the power is immense, the line up imposing and the stage visually impactive, the three singers Mick Ronson,  Lee Harding and Jade Tremarco take to the stage surrounded by the rest of the band, no less than eight other members, to rapturous applause and they haven't done anything yet!
The set list is understandably immense, covering three pieces of paper. Comfortably Numb is a stand out track here, with its lingering, high as a kite vocals, melodious backing band and wonderful on screen projections with pin point accuracy. It is just a stunning all round performance, and one that lingers in the senses. A 9 minute song, yet it is over in an instant.
And if I was happy with the first half, you won't believe how much I was pleased with the second.
As I wait with baited breathe to hear the spine chilling introduction to my favourite Pink Floyd song Shine On You Crazy Diamond I hope they can do it, it is a big ask of anyone; lyrical and musical perfection. And then it begins, the haunting keyboard signalling the arrival of the Holy Grail of Floyd songs. Subtly the guitar creeps in for a truly epic, heart wrenchingly mournful solo, that tugs at even the most hardened of souls begging to be let in for a warm and a cup of tea.
The second guitar makes an appearance, tremulous drums begin, the third guitar sneaks in, and then the vocals, nailing the evocative, melancholic lyrics and completing the production with aplomb. And I am gone.
With personal family pictures of Syd Barret playing on the projection screen echoing the nostalgia , I am lost for an entire 12 minutes, I am not even sure I blinked as I was swept away on the incredible journey that is Shine On; they did it proud.
And whilst I could go on forever, I won't, there is one more song that left its indelible mark on my soul and I feel I must make a special mention for Jade performing Great Gig in The Sky.  A lamenting, plaintive dirge crammed full of emotion, performed impeccably without so much as a quiver in the wrong direction she literally amazed me. Judging from the crowd, they all felt the same way.
To say it was a spectacle, would be doing the entire production a disservice, the projected images timed perfectly to sync with the music , the passion that the singers exude, the instruments; at times becoming an extension of the performer themselves was nothing short of enthralling.
Words: Kat Hilton