Manchester Punk Festival Is Coming...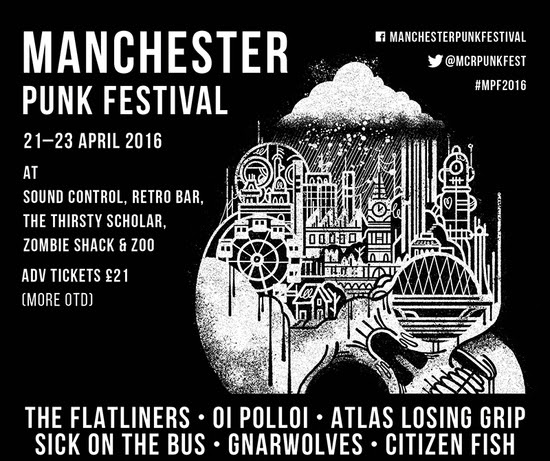 The Manchester Punk Festival will take place from 21-23 April 2016 across a number of Manchester venues all within walking distance of each other - Sound Control, Zombie Shack, Thirsty Scholar, Zoo, Retro Bar.  With just 7 weeks to go tickets are still available at £21 in advance or on the door for £25 (if there any left).  If you are planning on going it s best to get your ticket in advance online (MPF, Sound Control, See Tickets & Skiddle) or you can get tickets from three great shops: Rockers England (Manchester), All Ages Records (London) and Punk 'n' Disorderly (Chorlton).
The bands confirmed so far are:
The Flatliners, Citizen Fish, Oi Polloi, Sick On The Bus, Gnarwolves, Atlas Losing Grip, Apologies I Have None, Crazy Arm, Autonomads, Revenge of the Psychotronic Man, Faintest Idea, Pale Angels, Down & Outs, Grand Collapse, Brassick, Roughneck Riot, Bangers, The Cut-Ups, Rising Strike, Brawlers, Darko, Down & Outs, Kill the President, Sombulance, Wonk Unit, Fair Do's, Throwing Stuff, Gut Model, Kimberly Steaks, Sam Russo, Astpai, Captain Hotknives, Harker, Wadeye, Laughing In The Face Of, Zatopeks, Black Volvo, Woahnows, Don Blake, John Player Specials, Dead Class, Break-Ups, LuvDump, Repossessed, Only Strangers, Nosebleed, Paper Wings, Chewed Up, Casual Nausea, Riggots, Lineout, Jake and the Jellyfish, The Franceens, Matilda's Scoundrals, Deadites, The Memory, No Contest, Tim Loud, Thick Richard, Tim Holehouse, Perkie, The Lab Rats, Hello Mable, Emma Hallows and Edgarville.
For more details check out their website -->
HERE
<--
Or their facebook page -->
HERE
<--