Be Prog! My Friend 2016: Saturday
X
Scintillating, forward thinking music under the Spanish sun
Words: Phil Weller | Photos: Anthony Firmin
It was an honour to be invited to cover this year's Be Prog My Friend Festival, the third in its history. Having begun with a line-up boasting the likes of Opeth, Anathema, Fish and TesseeracT, in 2014, they followed that up with Devin Townsend, Meshuggah and Camel as the glittering jewels in the crown of last year's roster. This far in then, the festival's status is increasing with a fastidious rapidity, their intentions to deliver a seriously delirious bill of transcendental musical brilliance every time as obvious as it is impressive. And so, approaching the second edition of our very own Progathon (Rebellion, Sunday 21st August), we are able to draw parallels. Sure, Be Prog may focus on massive, international acts whereas the Progathon centres its peripheral vision on the local, underground scene. But the concept behind it – a glorious celebration of music that both challenges and tingles the senses – is identical. For that very reason, Poble Espanyol feels like home, something which becomes ever more apparent as we return for the second and final day of festivities.
We arrive towards the end of Anneke van Giersbergen's & The Gentle Storm's [7] set. Dressed all in black apart from Anneke herself, whose bright orange top reflects the sun's radiant rays, the band aren't doing things by half. Two risers, one for the drums and one for backing vocalist Marcela Bovio, with large steel steps stretching out between the two create something of a playground and something which they utilise across their bright, high energy set. Musically, orchestral arrangements deftly bolster the bellowing chugs of heavy guitars and Ed Warby's solid drumming. Their progressive approach however, with songs sprawling in unpredictable and epic directions throughout, Anneke's inimitable and astounding falsetto their veritable icing, makes this symphonic metal with intelligentia. A run through Devin Townsend's Fallout, on which Anneke takes lead vocals, gets a massive reaction from the slowly expanding crowd. Her solo material stands tall alongside this mercurial song though proving that she is a talented songstress in her own right and fully deserving of a place on the bill.
The guttural-cum-soaring prog of North Carolina's Between The Buried And Me [8] proves a polarising performance in the Manchester Rocks camp. Raised on the likes of Yes, Genesis and Gentle Giant, Anthony Firmin returns from the photo pit to say that, with sweat dripping from his brow, while he appreciates their algebraic time signature meanders and thinking man's mentality, the gravelled, growled vocals do little to appeal to him. I however am quickly disappearing into a blackhole, marvelling at that aforementioned complexity. Paul Waggoner's long fingers dance across his fretboard with an enviable ease and their set list as a whole is devilishly crafted. The hazy thump of Coma Machine provides the perfect intro, getting the place bouncing between an onslaught of twisting and riveting riffs, Blake Richardson's drumming manic and masterful. Colors' Informal Gluttony follows; a much darker, heavier piece, adorned with tribal rhythms and death metal inspired grinding guitars. Vocalist Tommy Rogers orchestrates the crowd well across the set, the space age synths of Extremophile Elite marrying eastern tonalities and extreme metal aggression. The final throes of the set however – Bloom and Selkies: The Endless Obsession – are delivered incisively and, as I turn to my right, I see Firmin's opinion beginning to warp. Waggoner takes a step forward and then executes the solo of the weekend; a flawless, multi-faceted and expansive piece. As it progresses to more ridiculous territories, though always tasteful, our jaws drop to the floor in unison. Firmin is resolutely sold.
The addition of Magma [5], meanwhile, was always going to be something of a wildcard. Obscenely strange and vastly improvised, their opening track Theusz Hamtaahk lasted for 40 minutes. Such uneasiness in their music, intensely looping sections and choral vocals, is hard to swallow and as such, starting with such an incessant and odd song definitely divided the crowd. All were in shellshock, some in a positive sense, myself and many others in the negative. It was just so confusing and hard to follow. Performance wise everything was a little motionless too which did little to hold your attention. But, with the final song Kobaïa more upbeat and characteristic, it does strike you that you are witnessing a wholly original band. No one else sounds like them and whichever camp you are in, you have to admire their eccentricity.
It all set things up nicely for Swedish stalwarts Opeth [9]. While many bands had used the giant screen behind them to full advantage, here it simple emblazoned their infamous logo, leaving your attention and any gimmicks firmly within the music played. Cusp of Eternity sounds glorious, anthemic and celestial under a sun which was slowly bowing behind the rooftops of downtown Barcelona. The Devil's Orchard follows and the two display the band's modern experimentalism, leaning heavily on their 70s prog rock roots as opposed to the barraging death metal they began with. This may cause annoyance in the face of diehards, but as albums they are damn near perfect and show a band able to adapt and remain vital. They balance new, more airy material with the crushing, failsafe classics however and, without their set ever sounding stylistically unsure or messy, The Leper Affinity, Godhead's Lament and the unholy, blackened Demon of the Fall sound categorically hellish. It would have been no surprise had the floor split open and the Mouth Of Hell itself had swallowed both crowd and stage whole in one glutinous gulp.
What I love about Opeth is that, despite their oft unbridled heaviness, it never becomes overbearing. A lucid, dreamlike demeanour floats through their sound, dragging you into a dark, contemplative and meditative mindset where, upon reaching the other side you feel replenished and an inner peace reigns supreme. It was another magical set from a band so wholeheartedly revered.
"If you thought that was good," Anthony quips, as Steven Wilson [10] and co coalesce as the haunting first few breaths of First Regret come to life, "wait for this." As a live performance, and particularly one of a progressive nature, what Steven Wilson has achieved is perfection, a template for all to aspire to. I have never heard a more crystal clear and cutting sound at a gig – thanks in part to the presence of his own PA system blaring out 5.1 surround sound. Every musician, highly experienced and respected in their own right, adds their own flare and fire to the greater, bigger picture. Wilson, the ringmaster, judge, jury and executioner, much to my surprise, also plays the role of the rockstar. Musically he is so vulnerable and something of the quiet underdog, like the unconfident kid at the back of class, never breathing a word. Yet he performs with a confidence and a bullishness, his silhouette cutting the stage like a resurrected Kurt Cobain or a fiery Tom Yorke. To take your eyes off him would have been a crime. And that's the thing. Across the weekend I had often taken a second to look around me, soaking up my surroundings, embracing the moment. But for the two hours that Steven Wilson graced the stage, I was transfixed, spellbound.
With videos accompanying and consequently hammering home the powerful stories that lurk behind each song – Routine able to bring a tear to even the most hardened man's eye – what we were watching was a complete performance. The Pink Floyd of this generation, there was something spiritual and compelling about it, to the point of a religious zenith. Both a sage and a prophet, intent on spreading the gospel of the artists that inspired him growing up, he adds his own teachings and novellic beauty to the foray. By the time First Regret closes out, in an anarchistic spiral of whirling Hammond and sharp, darting guitars, he already has the place in the palm of his hands. Of his musical heroes, his Gods, two have tragically left this mortal earth in 2016. He dedicates a purring, iridescent Lazarus to Prince and David Bowie and the atmosphere prickles with a mournful love.
Ironically, it is Happy Returns that finally breaks me. The tears had been threatening to rain down from my awestruck eyes for a while, but here his lyrics became too much. A song about two estranged brothers, separated, a friendship lost, the protagonist worrying if he and his children still remember him, Wilson manages to quarry such a deep, story telling poignancy. Like Opeth beforehand, you enter a spiritual, contemplative state as a result and, your mind wandering, you become rapt in thoughts, in possibilities, and in fate. This was so much more than music.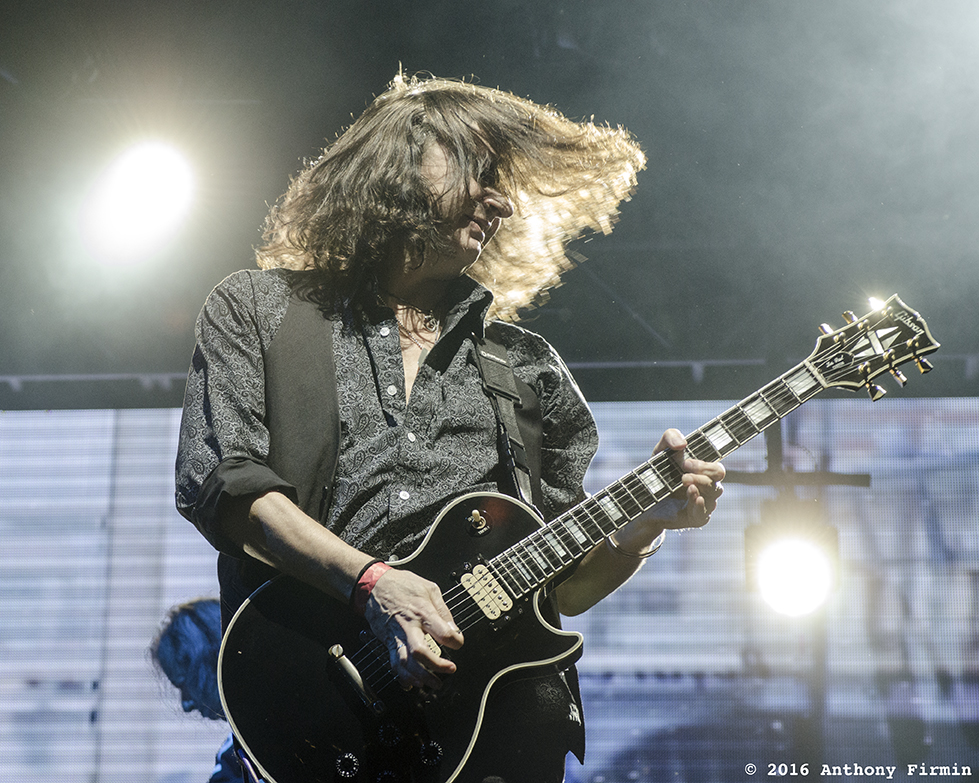 Consequently, you had to feel sorry for Textures [5]. How can you follow the weekend's best two performances? Indeed many people seemed to think it impossible and left before their set started. As much as we tried to open our minds and enjoy the Dutch act, their performance was a little dull and diluted to live up to their predecessors. They have the tech metal riffs and a singer with a decent set of pipes but nothing quite clicks. It is in no way a downer and a disappointing end to the night, it only makes you admire Steven Wilson and Opeth more.
As we turn our backs to leave, I take one last look at this most special and surreal gig venues. I soak it in, take a deep breath and remember. Until next year Poble Espanyol, until next year.