Be Prog! My Friend 2018 - Day One Review
ManchesterRocks returns to the splendid setting of Poble Espanyol for a weekend of cross genre Prog in the sun…
Words: Diane Taylor | Photos: Anthony Firmin
Persefone
As the band will readily admit, they are at the far edge of the prog metal spectrum and when Marc Martins opens his mouth to let those black metal growls out the crowds response is definitely WTF! And so it is for many today as these Andorrans are a wake up call to all who are here on this hot afternoon.
They are not without their fans – there is a reasonable gathering at the stage making their voices heard and are lapping up this extreme prog. The rest of the audience provide polite applause wondering what to make of it - this isn't everyone's cup of tea.
Persefone's six song set is evenly split between their last two albums, Aathma being their latest and most complete release and the set ender, Aathma: Part III. One With the Light, is solid and shows clearly bands tech-metal diversity and style.
Baroness
As the sun moves thereby casting a larger shadow across the arena, the crowd steadily builds as Baroness bound onto the stage, eager and enthusiastic with original guitarist and singer, John Baizley, looking determined, a man on a mission to deliver.
And deliver they do with a 13 song set garnered mainly from Yellow & Green and Purple; their sound slides effortlessly from post-rock to new-wave and even banging out a few bars of ska too which is greatly appreciated by the many die-hard fans they have here. We previously caught the band at SoundControl in Manchester a few years ago and it is nice to see them progressing.
Interestingly, the band have the only female member across the whole weekend here at Be Prog!, and Gina Gleason, who joined the band just over a year ago, seems to have fitted her guitar playing well into their music. Great work Baroness!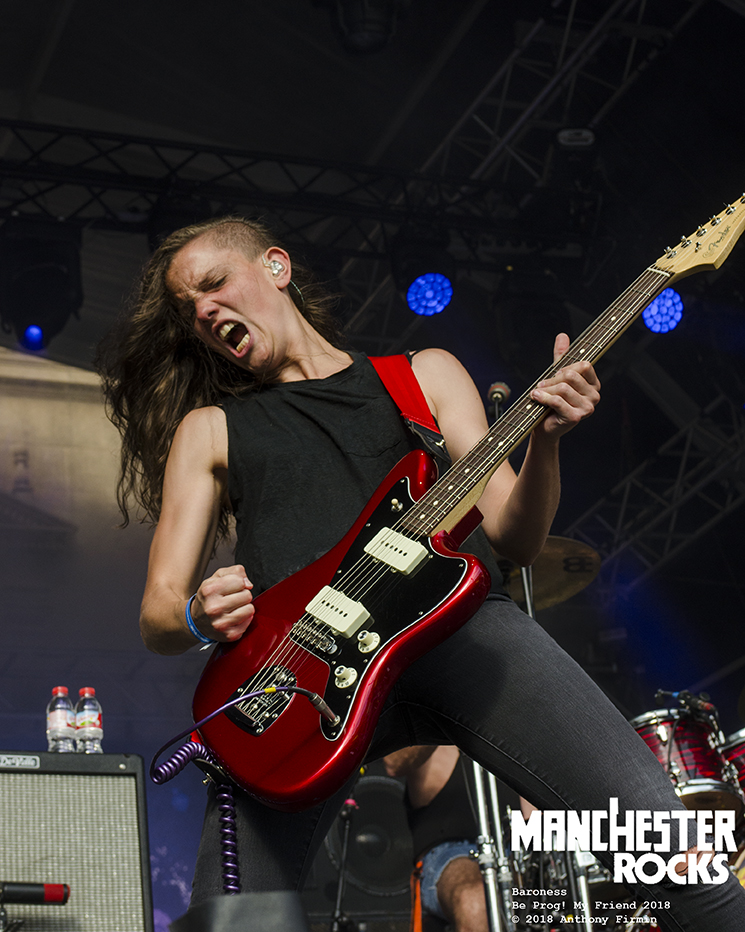 Pain Of Salvation
Raising the bar further still are Pain Of Salvation, a band I had fastidiously ignored thinking they were a death metal band, a decision based merely on their name – how wrong I was! After hearing their last album, I was addicted. The similarities to Gentle Giant and Opeth and all points between are obvious but this evening they truly come alive.
Opening with a triumvirate of songs from their last album was a masterstroke, Full Throttle Tribe, Reasons and Meaningless all of which grip the crowd and doesn't let them go as their material moves from sex to rampant consumerism to saving ourselves.
A few technical issues with the bass sound muddied things a little in the PA at one point and the levels went all over the place – the only bummer in an astonishing performance which culminates in the epic On A Tuesday followed by the fragile and sensitive title track of the last album The Passing Light Of Day. This was to be the "oh wow" performance of the weekend.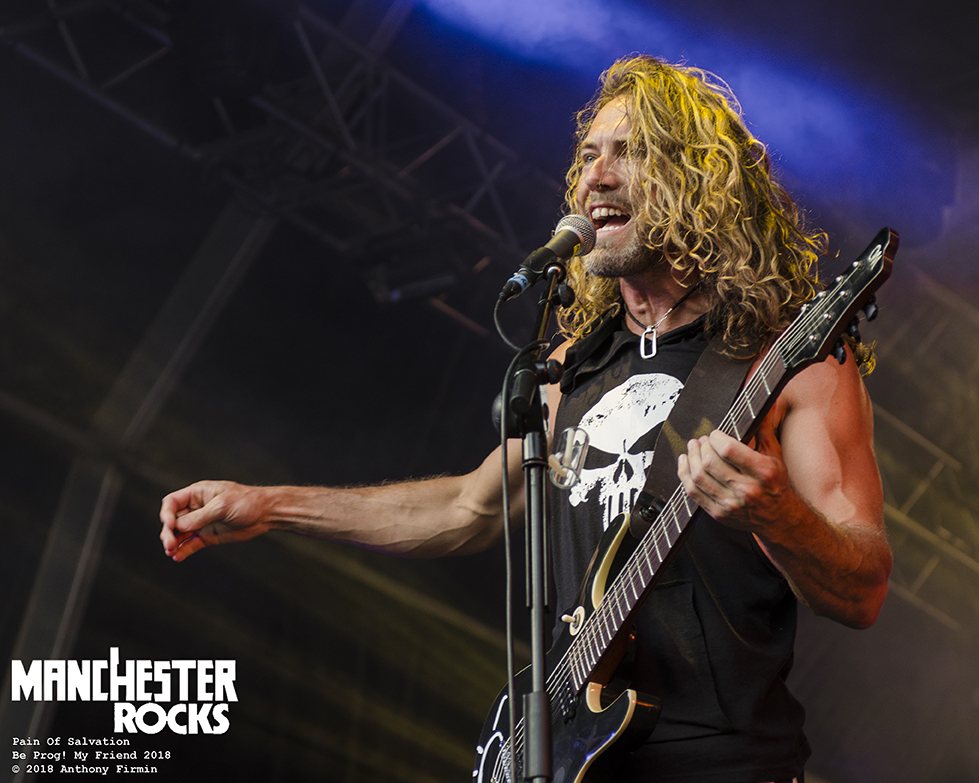 A Perfect Circle
The undoubted highlight for many is the Friday night headliner, A Perfect Circle, who are touring Europe extensively this summer in support of their new album. Certainly in the UK their tour sold out in less than an hour so when they were announced as one of the headliners we were salivating at the prospect of seeing them.
For us, there was also the problem of not allowing photos from pit and at many shows there was a draconian attempt to throw people out of venues for even lifting a camera phone. Fortunately we were to get to shoot two songs but as it turns out there were hardly any lights on the stage – you can't win them all.
The new album has divided opinion amongst fans too, it is certainly proggy but Mer de Noms it is not. That said the band opened to an incredible roar from the crowd with a couple of low keys pieces – Eat The Elephant and Disillusioned before launching into a powerful rendition of The Hollow which gets everyone bouncing and back in the mood. So Long And Thanks For All The Fish works well live and their cover of Depeche Mode's People Are People is interesting and the crowd really got into Counting Bodies Like Sheep to the Rhythms of the War Drums. The light show is spectacular, perfect for the music, although singer Maynard James Keenan is backlit and silhouetted, distancing himself by standing on a plinth at the back so more of the attention is focused onto guitarist Billy Howerdel. The sound is stellar too, combining with a great selection of material that makes the set fly by and ends far too soon for everyone's liking, even after 19 songs. An undoubted triumph.
So Mr Maynard, about the new Tool album?
Oranssi Pazuzu
The trouble with these late night, post-headline slots here at Be Prog! is crowd retention and many vote with their feet. And so it is time to go return to black/prog metal, not ideal after the last three bands.
But Finnish band Oranssi Pazuzu didn't care and played with all their hearts and they played loud. Very LOUD! And for those who stay, they love every second of it, with four of their six song set taken from 2016's Värähtelijä.