Devience + The Brink + Paladin At Rebellion: Live Review
I was relieved to see that Rebellion was still standing when I got there on 22nd July, as by all accounts it had been completely and utterly destroyed by Badgerfest's Thrash Metal headliners Shrapnel the previous day! I was there to see London-based Hard Rockers deVience, fronted by Giovanni (Gio) Spano, who's currently appearing in 'Bat Out of Hell - The Musical' at the West End's Dominion Theatre.
First on the bill were Paladin, a six-piece Hard Rock/Heavy Metal outfit hailing from Bolton. The band played a five-song set, opening with Sexy Song. Singer Lewis Ross-Nichol expressed how delighted he was to be back at his favourite venue, before ripping into brand new track We'll Never Learn, which had never been played live before.
Delivering a real sucker punch, She's A Bitch was co-written by the band's two lead guitarists, Haaris Raja and Tom Hill, about a girl they were both unwittingly dating at the same time. There were some really tasty guitar solos during this hard hitter and when it ended the mood was brought down with the band's penultimate song, Lost, which started off with a sweet acoustic guitar intro and developed into a slow and melancholic account.
The best song was definitely saved for last, in the form of Paladin's second, recently released single, Twisted. I knew within the first few seconds that this was going to be my favourite track, with big chunky riffs and heavy drumbeats from the start. The vibrant, edgy sound really suited them and they looked probably the most comfortable and connected they'd been all night.
Lewis's vocals weren't always as strong as they needed to be and sometimes got a little lost underneath the huge sound produced by the three guitars, bass and drums. He finished by paying tribute to his voice, which had sadly died during the last song. My feeling was that the songs lost much of their impact due to their length and going forward I'd love to see the band compose slightly shorter, hookier and even fiercer tracks.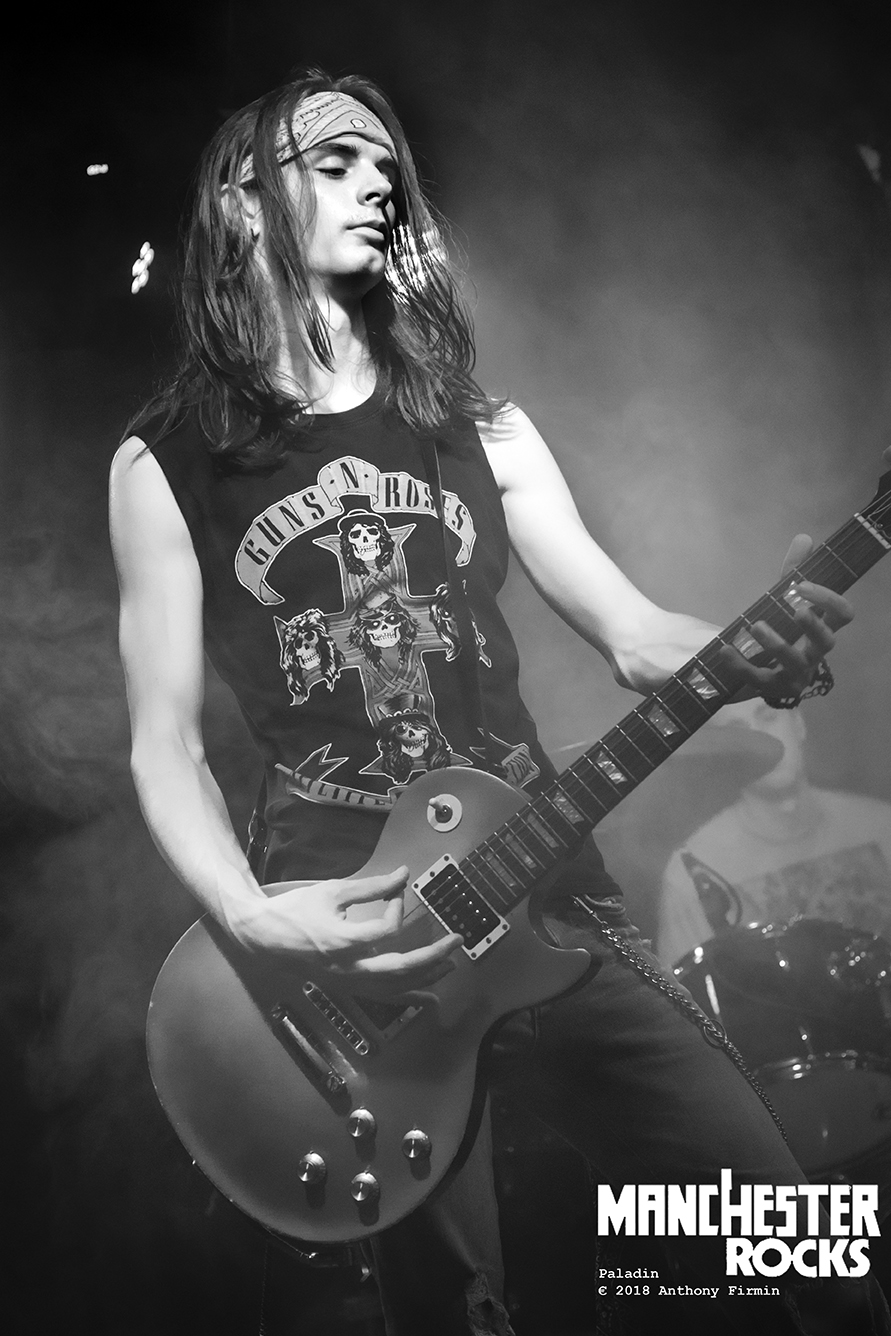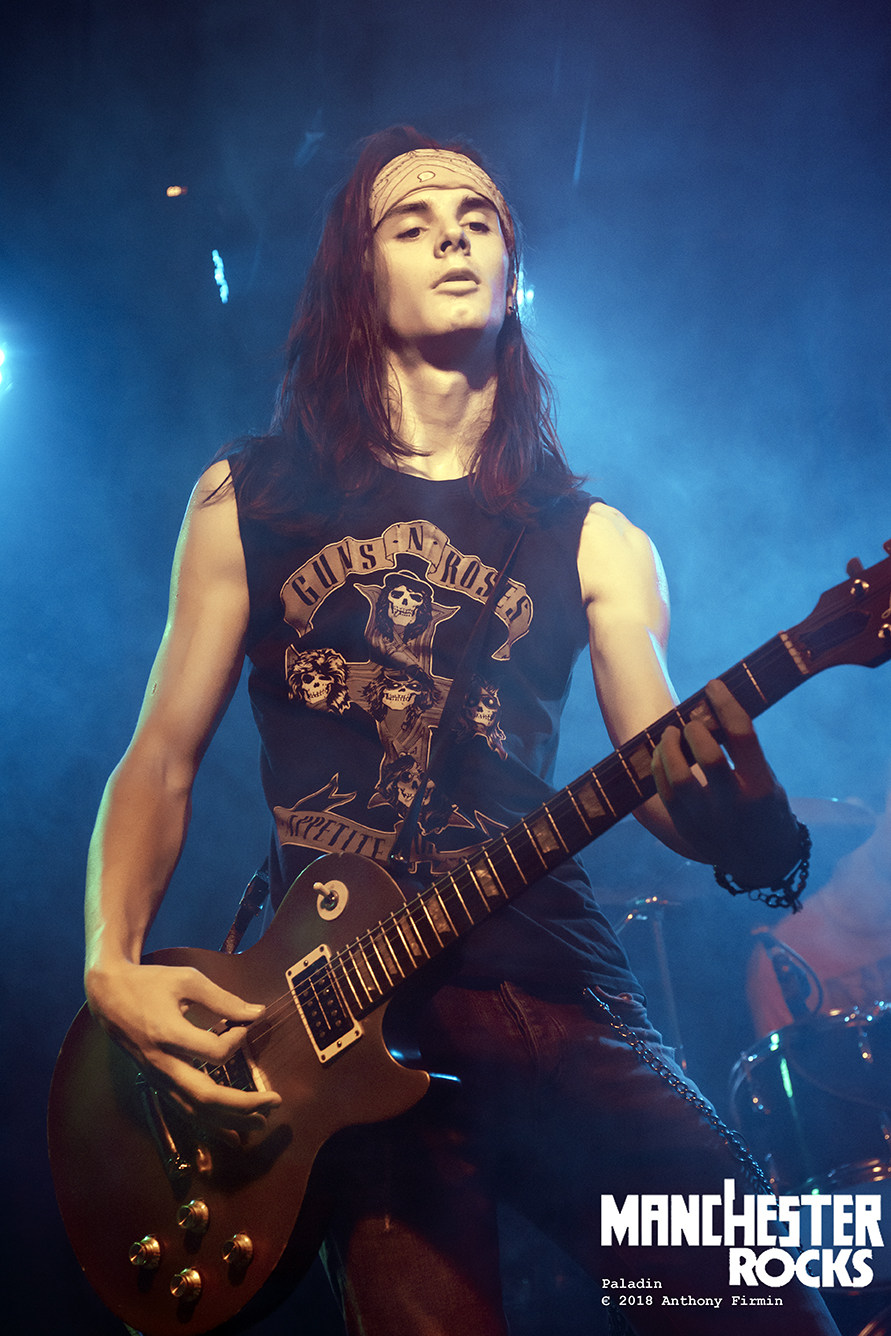 Next up were the Sheffield/Cambridgeshire quintet The Brink. How on earth did this band slip under my radar?! Standing there, I could easily have been on Sunset Strip at the height of the 80s Sleaze-Glam-Rock-Hair-Metal scene watching them play at the Whisky a Go Go! Izzy Trixx, the band's striking female guitarist, had long platinum blonde hair shaved on one side and wore a black leather biker jacket with her name emblazoned across the back in silver studs – 'TRIXX'. A Flying V guitar was the perfect partner to her uber cool Nita Strauss style poses, as she rocked the stage to its very core.
Fronted by Tom Quick, the band had great stage presence and dynamism and I loved the interaction between the musicians. They were having fun, and so were we. Groove-laden rhythms, solid drumming, scorching guitars and impressive vocals combined to produce a tight live act that I'll definitely remember as one of my finds of 2018. Tom threw fistfuls of bright pink wristbands into the crowd and when their high-octane set ended a member of the audience turned to me and said, "They were bloody brilliant!" "Yes, they were indeed", came my reply.
Something I'd noticed as soon as I arrived was just how many women there were in the audience - far more than usual for a rock or metal concert. I'd go so far as to say that for the first time I can remember, the females outnumbered the males, and music aside, there was one obvious explanation for this – Gio!
The chiseled frontman strutted onto the stage dressed in skintight black jeans with a silver belt chain and a camouflage vest. Tanned and buff, with a blue bandana tied around his forehead, he looked a bit like a cross between a youthful, fresh-faced Axl Rose and an action figure. All the women amassed in front of the stage, gazing up at him admiringly as he stood on the railings and shouted "Rebellion Manchester, I have missed you SO much - Everybody SCREAM!"
With a mighty kick of the drum and a bit of pelvic thrusting from the self-assured singer, the party got underway. Gio, taking masterful control of the show and initiating all the newbies in the crowd, said "One thing we do at a deVience gig is we dance, we clap and we thrust!" Gio's confident, lively performance bore testament to his theatrical background and the temperature on stage soared as pulses raised amongst his star-struck fans.
Whilst we were all having our faces melted off by deVience's testosterone-fuelled brand of cocksure rock, guitarist Donnie Roulstone, who was by now glistening (or in his words, so wet that he was going wrinkly), treated us to some blistering solos. The injection of a heartfelt ballad, Easy, into the energetic set beautifully showcased Gio's vocal range, but the highlight for me was Move, which had absolutely everybody clapping, dancing and singing their hearts out to the catchy chorus, "The way she moves…"
Gio gave everything he had to the audience, getting up close and holding out the mic so that individuals could sing along with him, as well as stopping between songs to chat to delighted fans. DeVience closed with a cover of Gimme Some Lovin', followed by Gio's parting promise, "We are DeVience and we will be back time and time and time again!" After the show one very satisfied member of the audience said to me "That didn't just exceed by expectations, it exploded my expectations!" How right she was.
LINKS
deVience
https://www.facebook.com/deVIenceband/
The Brink
https://www.facebook.com/thebrinkband/
https://www.thebrinkofficial.com/
Paladin
https://www.facebook.com/paladinmetalmusic/