King King and Steve Hill at Holmfirth Picturedrome
Words: Diane Taylor | Photos: Anthony Firmin
The one man maelstrom that is Steve Hill has arrived once more in Holmfirth, his second visit to the Picturedrome situated in the picturesque Pennines.
The crowd is impressed as he rattles through a selection of blues numbers, many from his excellent live album only released a week ago. The sound and tone from his glittery Gibson Firebird is stunning too.
Dangerous, from his last album, hits the spot with the crowd who have come early to witness Hill and they certainly show their appreciation. He finishes his set with some blues boogie which gets the crowd dancing along, a boogie which munges into a cover of Hendrix's Voodoo Chile - more of a one man return than a slight return. It is impressive nonetheless, the whole venue was cheering, job done!
That new live album is a must have for blues rock fans and the future is definitely bright for Steve Hill; his one man maelstrom returns in November for a headline tour, he has to be seen to be believed!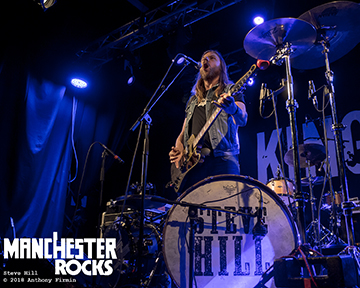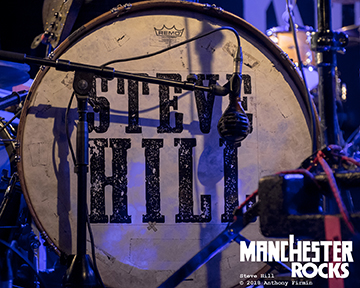 As the intro tape rolls, AC/DC's Highway To Hell, the excitement quickly builds and everyone is singing along – the big man himself, Alan Nimmo, egging everyone to sing along before the band launch into (She Don't) Gimme No Lovin' and the crowd bounces along. And it is a double whammy because the band waste no time in Waking Up the crowd.
The beer is flowing and the everyone is in a jubilant, partying mood and King King are delivering on every level, on this support tour for the album Exile & Grace which has now been out over 6 months. Nimmo's mum watches the show every night and the big man wants it 'Facebook Live' so she can see and hear it – hopefully tonight someone will be lucky as the signal can be tad tricky in here.
Things carry on with Broken before slowing down somewhat for A Long History Of Love which features some soulful Hammond organ from new boy Jonny Dyke. The power of Nimmo's voice coming through too along with some extraordinary guitar playing before the band pick up the pace again with Lose Control – and the audience are certainly losing control!
Between songs Nimmo connects with the crowd over a fan who isn't able to be at the show because of serious ill health, the warmth he shows is palpable, Rush Hour is for that missing person; the warmth the crowd also shows is equally palpable.
Onto the home stretch and Long Time Running before they get down and funky with All Your Life and finishing off the main set with Stranger To Love. The well earned encore see's King King perform Find Your Way Home before Let Love In finishes off another cracking performance from this band. All this on a night when the band won three awards at the UK Blues Awards... in what is their 10th anniversary year - well done and thoroughly well deserved.