Reflections: Progathon II
Progathon organiser Phil Weller and Fantasist's bass playing weird music fiend Spadge Fafner reflect on Progathon II. Photos by Anthony Firmin.
So, a little over five months after we brought you the first edition of the Progathon – an event celebrating all the proggy, avant garde loving, angular riff making bands from the local scene and beyond, trying to establish a community around it in the process – we return for another run.
It represented our most diverse and therefore ambitious line-up to date; working tirelessly to encompass the limitless different dimensions that music as off-the-wall as this can venture into. But did it work?
Nova Hands
Fafner: The first band of the day and we're off to a cracking start. The band makes great use of time signatures, with vocal effects supplying a nice additional touch. I usually think three guitar bands are way too much as they rarely get utilised the way they should, but these guys provided an exception and pulled it off. Melodic, interesting, well thought out songs and brilliantly executed. The only band I could think of to liken them to would be Karnivool, and that's no bad thing! A band I'd definitely pay to see again.
Weller: The Huddersfield band have been on my radar for a little while now – particularly with a Progathon booking always in the back of my mind. Slowly but surely I saw others jump on the hype train and so it only made sense I invited these guys along. I knew I was getting smart, well rounded music with some light and catchy vocals icing the mix, but what really impressed me was how big their sound was and how – on a song like Blossoms – they juxtapose light and dark, quiet and soft, so tightly and so convincingly.
MotherTongue
Fafner: A big mix of Mr Bungle, ELO and The Cat Empire (minus the keys). They're great fun to watch, with some very well constructed songs, from Madness inspired ska vibes to proggy manic overtones. Another three guitar band also making good use of everything seen/heard onstage…with added trumpet! They've set out to impress and create a party vibe and they've succeeded greatly.
Weller: As soon as I heard their album, Unsongs, I simply had to book them. Self-defined as 'progressive pop', they combine their love of odd timings and forward thinking music with nerdy video game music, film scores and the unadulterated, irresistible swagger of Ricky Martin. They are, in short, fun as hell, and the fact they weren't heavy made things all the better.
The River Versus
Fafner: These guys never fail to impress. Starting with a brass rendition of the Jurassic Park theme and ending with a gem from their forthcoming second album and with plenty of prog in between for good measure, their set flew by. And, as always, they are never taken too seriously. These guys do song writing well but they're no strangers to dicking around on stage too, adding to yet another in an impressively intricate yet surprisingly comedic day of noisy fun.
Weller: They stole the show at the first Progathon, and with that opening, dinosaur worshipping rendition, they damn well nearly stole it again. Another fun band who's musical dexterity should never be underestimated, they stride the perfect balance between complex and mind-boggling prog with something you can dance with yer Gran to…if you so wanted to.
Under
Fafner: Well fuck. A complete departure from what we've seen so far. I've had the pleasure of seeing these guys a handful of times now and each time they are as memorable as the last. In some weird of Melvins-meets-Alice-in-Chains way, with some extra proggy confusion thrown in, they go down really well. Unorthodox harmonies abound and riffs aplenty, they've definitely mixed up the vibe here tonight for the better. I don't think anyone saw this coming yet no one walked away unimpressed.
Weller: Just as you thought, with two lighter bands preceding, you'd sussed out the name of the game here, Under hit you with their heavy thump, interspersed with clever, fan-dangled Zappa-isms and a raw musical honesty. Superb.
Ascent
Fafner: Starting fairly slow with an instrumental number. Though well constructed, with some slightly Guthrie Govan-esque guitar and carefully placed keyboards, I honestly think the opening song was a little boring and probably not a good choice of opener. After a few songs however, I'm quite impressed. The band are tight as a ducks tits and sound like a mixture of Incubus and Dream Theater. While that sounds like it might not mix, these lads seem to have found a happy medium of the two styles. Not a strong favourite but I enjoyed their set.
Weller: I suppose this is where the prog becomes a little more polarising. Balls deep in long, winding and ridiculously complex and feverishly decorated songs – each standing at 10 minutes apiece – this is full-on prog metal. But if, like me, you are a fan of the intense and abrasive sounds of Dream Theatre and their ilk, songs glazed with soaring and scarily talented falsetto vocals, these guys are most definitely for you.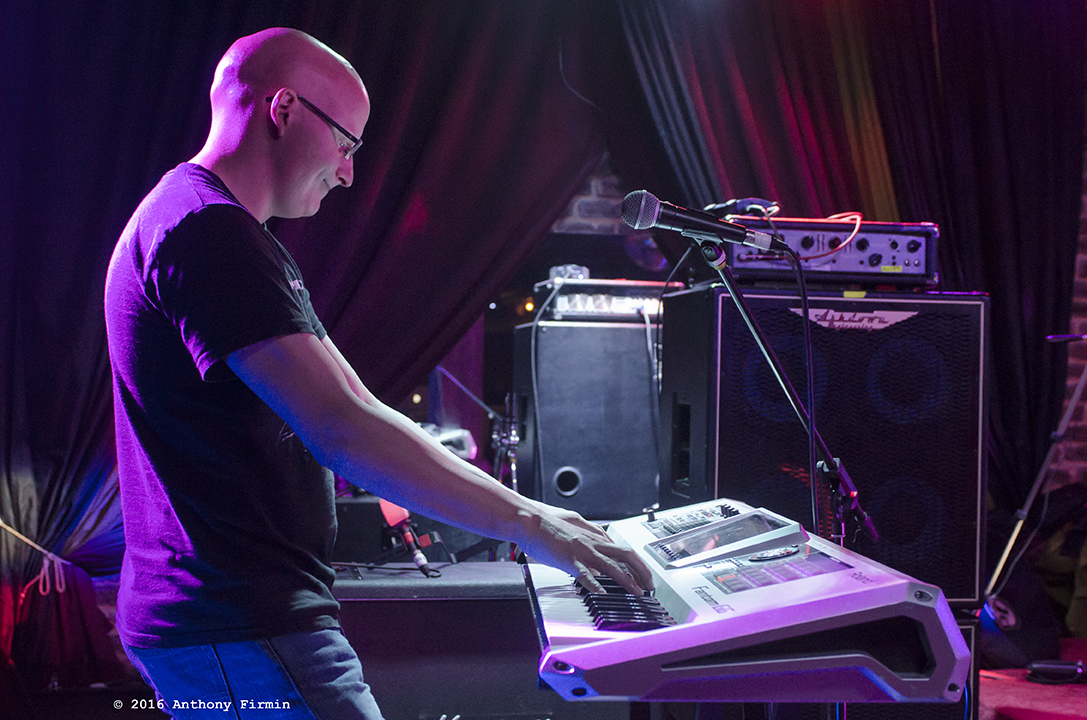 Poly-Math
Fafner: I had the pleasure of seeing these guys a couple of months ago with Cleft and Alpha Male Tea Party and holy tits I forgot how much noise these guys can make. Well articulated, crushing, sensational noise. I can't really put in to words how entertaining they are as a band or how encapsulating the songs are. I'll just say this – If you like your instrumental with added mental then Poly-Math are your new favourite band.
Weller: I'm not entirely sure I can put it better than Spadge really. What was great to see was, aside from their well-drilled, pinballing musical attack, their unbridled energy. Bassist Chris Woollison in particular threw himself all over the stage. They gave it absolutely everything.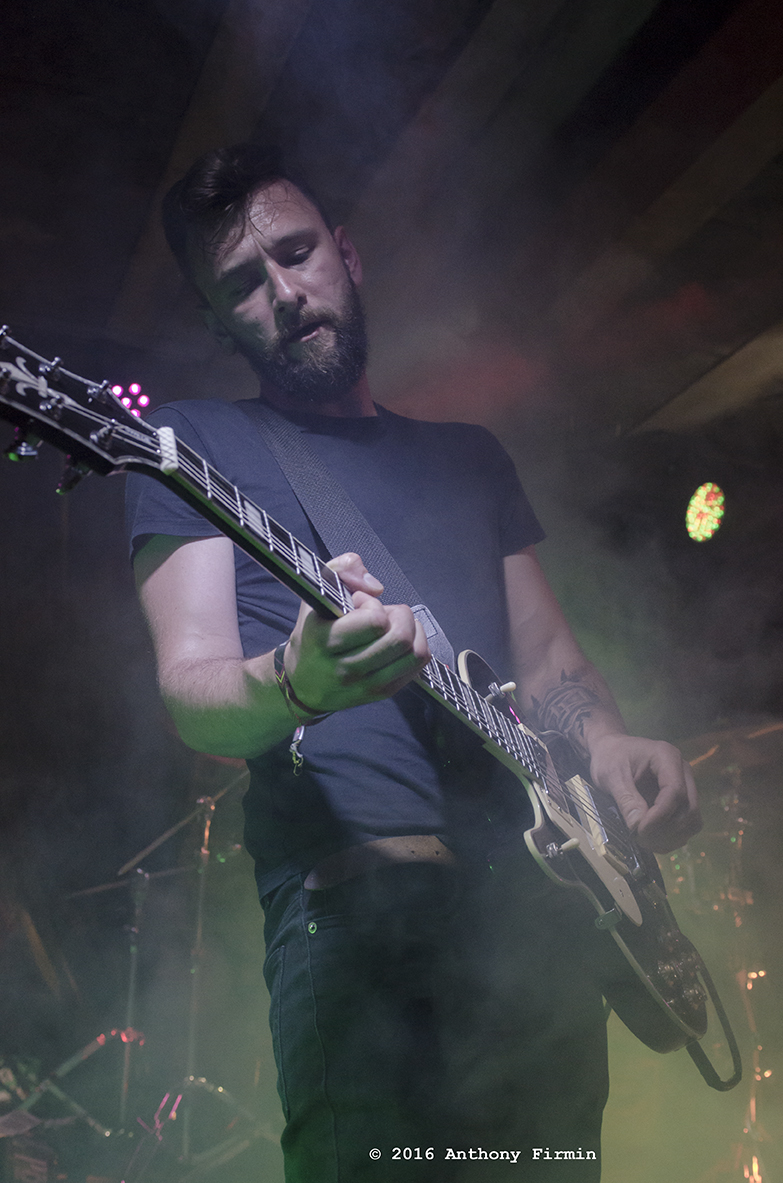 Betraeus
Fafner: Certainly not my favourite band of the day but one definitely worthy of the headline slot. It was tight and well put together, the vocals and technical ability of these guys speaks volumes and they know how to push it to 11. Sadly the crowd by this point – with things running a little late and public transport on Sunday always a ballache – had thinned out a bit but those still around appreciated what they saw. The delivery of the final song, The Drought , was absolutely immense. Total set smasher
Weller: I remember seeing these guys at the MMC Weekender back in January, just before my band were due on stage and thinking, 'how the fuck do we follow this?!' Pist's John Nicholson called them 'arena worthy' and right there and then I had them mentally booked to headline the second Progathon. With a new album in the works, they treated us to some new songs; heavy, harrowing and hedonistic yet gruff and guttural, while their death-tinged sounds may not be everyone's cup of tea, I am a huge fan of what they do and they delivered the final set of the day expertly. Towards The Sun, with its cross-handed tapping guitar intro, was a sure fire highlight. Keep your eyes on these guys.